Welcome to Searching Together for the Common Good: An Introduction to Moral Philosophy
---
Let's get started!
THIS WEEK'S READING:
-The first two pages of The Meditations, by Marcus Aurelius (Link below)
-Passage from The Analects, by Confucius (this short text can be found in the material below)
Watch: Meet Your Instructors
This course was designed by Greg Watkins, a lecturer at Stanford University, and Mike Taubman, a teacher at North Star Academy in New Jersey. The course is based on a freshman humanities program at Stanford called Structured Liberal Education (also known as SLE). Watch the video for a quick introduction.
---
Watch: An Introduction to Moral Philosophy
Are you a philosopher? Even if you don't know it yet, you may already be practicing philosophy! This short video breaks down the meaning of philosophy as well as the type of philosophy we will be studying in this course.
---
Write: Where do you find wisdom?
---
Watch: The Meditations of Marcus Aurelius
Marcus Aurelius was the emperor of the Roman empire from 160 to 181 AD. He was also a serious philosopher, and his works of philosophy are still studied today. He belongs to a school of philosophy known as Stoicism. In his most famous work of philosophy, known as The Meditations, he starts by acknowledging the many people in his life who have helped him become the person he is. Watch the video to learn more about Marcus Aurelius and The Meditations, and then take some time to make notes for yourself about some of the people who have helped shape the person you are today.
---
Read: The Meditations of Marcus Aurelius
---
Write: How would you begin your Meditations?
---
Watch: What does it mean to "Do the Right Thing"?
When it comes to the ways we treat other people, one piece of wisdom you're likely to hear is "Do the right thing."
---
Write: How do you interpret the phrase "Do the right thing"?
---
Poll: Family vs. Community Obligation
Now that we have thought a bit about wisdom, where we can find it, and the challenge of figuring out how to "do the right thing", we want you to think about the moral implications of what we owe each other. Do you feel a sense of loyalty to your family? What about your wider community? What if you had to choose between the two? Let's take a quick poll to see how students in this class feel about this choice.
---
Moral wisdom from a Chinese philosopher: A short passage from Confucius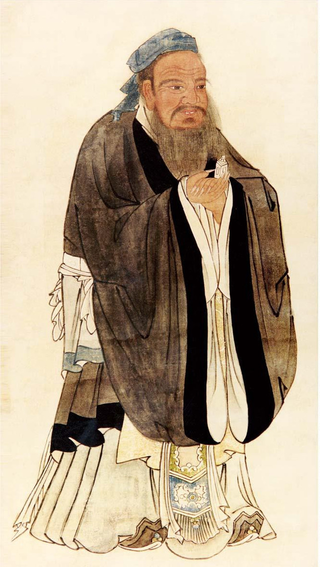 ---
Watch: An Introduction to Confucius
Confucius was a moral philosopher and teacher in China about 2500 years ago. We learn about Confucius through a book called The Analects, which is a collection of short passages about the life and teachings of Confucius.
---
Check for Understanding
---
Watch: A Passage from The Analects
---
Check for Understanding
---
Discuss:Passage 13.8 from The Analects
The Governor of She declared to Confucius: "Among my people, there is a man of unbending integrity: when his father stole a sheep, he denounced him." Confucius said: "Among my people, men of integrity do things differently: a father covers up for his son, a son covers up for his father – and there is integrity in what they do."
---
Write: Reactions, thoughts, & questions
---
Write: Any Questions for Greg?
---